This Month in Real Estate – October 2012 Market Update

The national housing market continues to recover, indicated by a balanced supply of inventory and increasing home prices across the country. NAR President Moe Veissi states, "The very favorable market conditions are helping to unleash a pent-up demand, which is why housing supplies have tightened and are supporting growth in home prices."
However, rising demand has led to tight supplies of affordable homes for first-time home buyers, who now only represent 32% of purchasers. NAR Chief Economist Lawrence Yun claims "a healthy market share of first-time buyers would be about 40%, so these figures show that tight inventory in the lower price ranges, along with unnecessarily tight credit standards, are holding back entry-level activity."
Regardless, with the market heating up and mortgage rates continuing to hit record-lows, now is one of the most favorable times in history to buy a home.
Home Sales
(in millions)
While home sales declined 5.4% from last month to 4.37 million units, year-over-year sales increased 4.5%. Distressed homes (which include short sales and foreclosures that traditionally sell for 15%–20% less on average compared to non distressed homes) allotted for 25% of June sales, which is unchanged from May, but is 30% below year-ago sales. However, despite the declining levels seen from past years, it is still expected that distressed property sales will still be largely present and higher than the historic average.
Home Price
(in thousands)
Shrinking inventory and a decline in distressed properties on the market continue to drive home prices up. The median home price rose 5% from last month, and 7.9% compared to a year earlier to $189,400. This is the fourth consecutive month of year-over-year price gains, which hasn't been seen since February to May of 2006, a period of peak performance in the housing market.
Inventory- Month's Supply
(in months)
Housing inventory fell another 3.2% in June to a current 2.39 million homes available for sale, a 6.6-month supply. This marks the seventh consecutive month of inventory at a 6-month supply, the threshold for a balanced market, giving both buyers and sellers an equal advantage. Movement out of the three-year buyer's market is imperative toward reaching a full-scale housing market recovery.
Interest Rates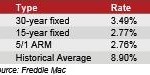 Mortgage rates this month at or around 3.49% are back to record lows.   The decline in the 30-year fixed rates is partially due to the result of the Federal Reserve announcement of "QE3".  QE3 is a new bond purchase plan which should help stimulate the ongoing housiing recovery.  Home buyer affordability remains high for home buyers who buy now while rates are low.
Topics For Home Owners, Buyers & Sellers
With many markets heating up, home prices are rising and inventory is shrinking. This high market activity puts sellers at a strong advantage, but to ensure that your property sells quickly and for the highest price, here are some tips to turn that "For Sale" sign into a "Sold" sign:
List at market price. Even though the market is in your favor as a seller, incorrectly priced homes will not attract buyers. If you list your home at market price, your home will be on the market for fewer days, you are twice as likely to have multiple offers, and your chances of fewer price reductions and your sales price being close to your list price are much greater.
Condition is key. Keeping your home in excellent condition includes enhancing your curb appeal by landscaping your front yard, as well as making necessary updates such as painting and roof repair. 93% of homes that were in better condition received offers close to their list price.
Stage your home.  Many buyers prefer to see a depersonalized home, devoid of the seller's personal items, so that they can picture themselves in it. Staging can be as simple as rearranging furniture or uncluttering a room. The cost of it can be minimal compared to the benefits of more showings and, ultimately, a higher asking price.