This Month in Real Estate – November Market Update

November 2012 Market Update
According to a report from KW research, first time homebuyers are most motivated by the following factors: the current market, financial readiness, location and price. First-time homebuyers recognize the opportunity in today's market. Record-low interest rates, lower prices and tax breaks all make buying more appealing. They also cited financial readiness as the next most driving factor.
This Month's Video
The national housing market is showing steady signs of recovery due to a combination of rising demand, declining inventory, and low interest rates. A good indicator that the market will experience a full-force recovery is strongly evidenced by the continual increase in median home prices. Usually, prices slow down after the peak summer sales season, but the current gains are a sign that the housing recovery is self-reinforcing.
NAR Chief Economist Lawrence Yun states, "The market trend is up. Despite occasional month-to-month setbacks, we're experiencing a genuine recovery. More people are attempting to buy homes than are able to qualify for mortgages, and recent price increases are not deterring buyer interest. Rather, inventory shortages are limiting sales."
Now is one of the most favorable times in market history to purchase a home due to record-low interest rates. With the uncertainty of the upcoming election and the likelihood that interest rates might not be low for much longer, the time to buy is now.
Home Sales
(in millions)
Home sales fell 1.7% month-over-month to a seasonally adjusted rate of 4.75 million units, an 11% increase from last year. Distressed homes (which include short sales and foreclosures that traditionally sell for 15%–20% less on average compared to nondistressed homes) accounted for 24% of September sales, up from 22% of sales the previous month; they were 30% in September 2011. Although the number of distressed properties is decreasing from month to month, they are still high by historic standards.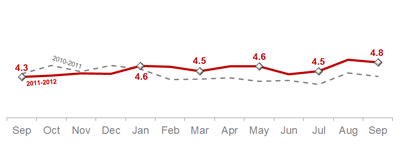 Home Price
(in thousands)
Home prices have slightly decreased this month, with the current median home price at $183,900, down 1.7% from last month's median price of $184,900, but up 11.3% from last year. While the month-to-month trend has seen a small dip, the year-over-year trend of increasing home prices is still present. September marks the seventh consecutive month of year-over-year price increases, the largest year-to-date rise since 2005.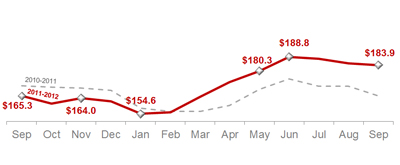 Inventory- Month's Supply
(in months)
Housing inventory fell 3.3% from last month to 2.32 million existing homes available for sale, a 5.9-month supply. Listed inventory is down 20% from last year's 8.1-month supply. NAR Chief Economist Lawrence Yun claims, "The shrinkage in housing supply is supporting ongoing price growth, a pattern that could accelerate unless home builders robustly ramp up production." Regardless of the small decline in inventory, a 5.9-month supply still represents a fairly balanced housing market.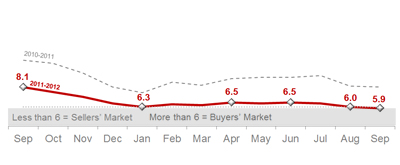 Interest Rates
Mortgage rates this month continue to decline at or around 3.41%, reaching record lows. While these rates underline an extremely favorable time to buy, "some buyers who could easily afford a mortgage can't assume they will get one," states NAR President Moe Veissi. He advises home buyers "to be more focused on the mortgage process in the current environment where lenders and banking regulators are being risk adverse. Shopping for competitive mortgage terms is a good idea, but it may be more important to find a bank that is willing to work with you given your credit history."