This Month in Real Estate – February 2013

February 2013 Market Update
The conclusion of 2012 paints a promising picture for 2013 and the national housing market. Falling inventory levels coupled with record-low mortgage rates, which drive high levels of demand, continue to drive home prices upward.
NAR Chief Economist Lawrence Yun states that this pent-up demand is sustaining the market and that "record-low mortgage interest rates clearly are helping many home buyers, but tight inventory and restrictive mortgage underwriting standards are limiting sales."
He goes on to say that anticipated job creation and household formation will continue to fuel confidence growth in the housing market. He expects both sales and prices will once again be higher in 2013.
NAR President Gary Thomas claims, "The biggest impact of tight inventory is upward pressure on home prices, but after values fell below replacement construction costs, prices are still affordable in most of the country." While mortgage rates are expected to stay low for the first half of the year, and home prices still remain affordable for most, there is an urgency to buy now, before home prices increase more significantly.
This Month's Video
Home Sales
(in millions)
Home sales this month were down 1% from last month and up 12.8% from year-ago levels to a seasonally adjusted rate of 4.94 million units. 2012 marked the highest volume of home sales since 2007 with 4.65 million units, the strongest increase since 2004. Distressed homes (which include short sales and foreclosures that traditionally sell for 15%–20% less on average compared to nondistressed homes) accounted for 24% of December sales, up from 22% the previous month but down from 32% in December 2011. Regardless of the decrease in distressed sales from last year, these properties are still at above-average numbers.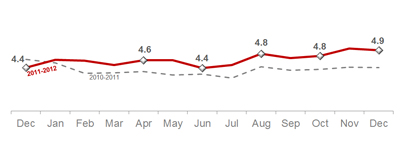 Home Price
(in thousands)
The current median home price rose slightly in December to $180,800, which is 11.5% above this time last year. This marks the tenth consecutive month of year-over-year price gains, last of which occurred from August 2005 to May 2006. This year has marked the strongest annual price gain since 2005 when the median price rose 12.4%.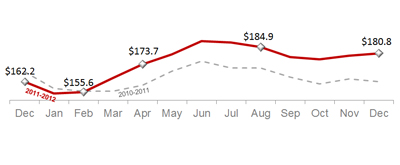 Inventory- Month's Supply
(in months)
Housing inventory fell again this month to 1.82 million existing homes for sale, representing a 4.4-month supply. This is the lowest housing supply since May 2005, which was near the peak of the housing boom. When inventory supply is below 6 months the market is said to favor sellers.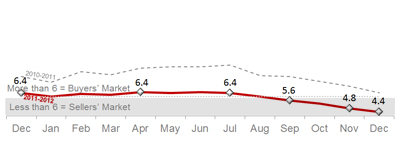 Interest Rates
Mortgage rates hit a record low of 3.35% in January, and are currently at or around 3.38%. NAR President Gary Thomas states that affordability conditions will remain fairly stable, "Although mortgage interest rates should gradually rise as the year progresses, they're expected to stay below 4% during the first half of the year." With the uncertainty of when interest rates might rise, there is a sense of urgency to buy now.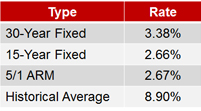 Home Price

(in thousands)
The median home price fell again in October to $178,600, compared to the previous month's median price of $183,900. Home prices are up 11.1% from a year ago, which marks the eighth consecutive month of year-over-year price gains, which hasn't been seen since October 2005.