This Month in Real Estate – December Update

December 2012 Market Update
While the national housing market is  improving, there are still signs that indicate we are not yet  experiencing a full-force recovery. Credit standards are still tight.  There are millions of homeowners in some stage of foreclosure or  default, while millions of others still owe more than their homes are  worth. As long as the economy continues to strengthen, the housing  market will move toward the recovery we have been waiting for. However  until the recovery is fully realized, we must remain aware that if the  economy weakens again, the housing market could relapse.
The Federal Housing Administration announced that as a result  of so many mortgage delinquencies, it might have to exhaust its  reserves, which could result in the FHA needing to rely on taxpayer  funds for the first time in its 78-year history. A government bailout of this magnitude could possibly weaken the economy, but the U.S. Treasury will not make a decision until next February.
Considering the current, stringent mortgage underwriting  standards, it's important to know how credit scores work; improving your credit score will increase your likelihood of obtaining financing. NAR  President Gary Thomas states, "Record-low mortgage interest rates  shouldn't be taken for granted." Buying a home now is favorable for  those that want to take advantage of interest rates while they are at  historic lows.
This Month's Video
Home Sales
(in millions)
Home sales were up 2.1% this month to a seasonally adjusted rate of 4.79 million units, a 10.9% increase from last year. NAR Chief Economist Lawrence Yun mentions that Hurricane Sandy had some impact on sales figures this month. He states, "Home sales continue to trend up and most October transactions were completed by the time the storm hit, but the growing demand with limited inventory is pressuring home prices in much of the country. We expect an impact on Northeastern home sales in the coming months from a pause and delay in storm-impacted regions." Distressed homes (which include short sales and foreclosures that traditionally sell for 15%–20% less on average compared to nondistressed homes) accounted for 24% of October sales, unchanged from the previous month; they were 28% in September 2011. The amount of distressed properties are high by historic standards, regardless of their seemingly stable percentages.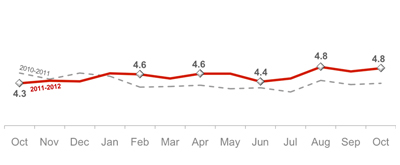 Home Price
(in thousands)
Home prices have slightly decreased this month, with the current median home price at $179,000, down 2.6% from last month's median price of $183,900, but up 11..1% from last year. While the month-to-month trend has seen a small dip, the year-over-year trend of increasing home prices is still present. October marks the eighth consecutive month of year-over-year price increases, the largest year-to-date rise since 2005.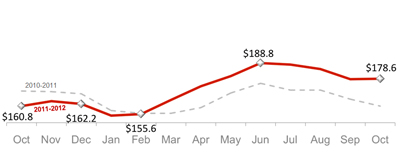 Inventory- Month's Supply
(in months)
Housing inventory fell 1.4% from Septembers to 2.1 million existing homes available for sale, representing a 5.4-month supply. Inventory levels are down 21.9% from last year's 7.6-month supply, which is the lowest supply since February 2006.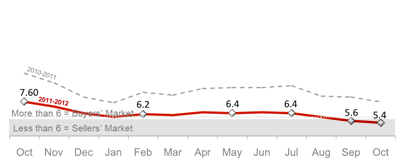 Interest Rates
Mortgage rates this month continue to decline at or around 3.34%, reaching record lows. While these rates underline an extremely favorable time to buy, "some buyers who could easily afford a mortgage can't assume they will get one," states NAR President Moe Veissi. He advises home buyers "to be more focused on the mortgage process in the current environment where lenders and banking regulators are being risk adverse. Shopping for competitive mortgage terms is a good idea, but it may be more important to find a bank that is willing to work with you given your credit history."